Weighbridge Smart Outdoor Display
Our Weighbridges can be paired with an outdoor indicators, software and accessories for a complete weighing and data management solution.
FEATURES
CE approved
Dustproof and waterproof, stainless shell protection IP65
10 degrees up to 170 degree viewing angle
Masterful mechanical design for easy installation
Double row LED digits and bit zone indicator elements
Communication by RS232 or RS485 or electronic current loop
Support more than 30kinds of communication protocols
Mirror image display
Wireless communication(optional)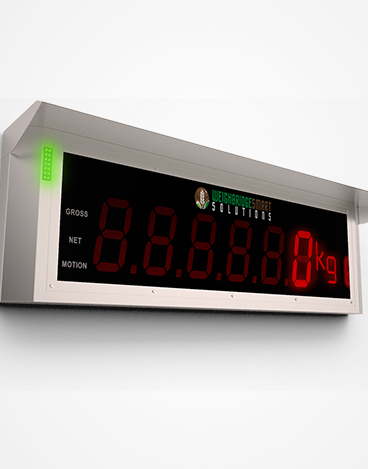 Power Supply: 90V~260V AC 50Hz(or 60Hz)±2%Power Consume: 40W Main Display: 6 digits, 7 segments, Ultra bright LED Digits Size: 5.0" LED Indicators: 3 LED, Gross, Net, Motion Visible angle: 10 degree to 170 degree Extra function: Mirror Display Operating Temperature: -10℃ to 40℃ Storage Temperature: -25℃ to 70℃
Relative Humidity: 90% R.H without dew IP Level: IP65 Dimensions with sun shelter: 900×280×106mm (L×W×H) Dimensions without sun shelter: 903×296×257mm(L×W×H) Weight: Approx. 16kgs Certification: CE Enclosure: Stainless steel Interface: RS485/RS232; Current Circle; Wireless(Optional)
Bixolon Thermal Receipt Printer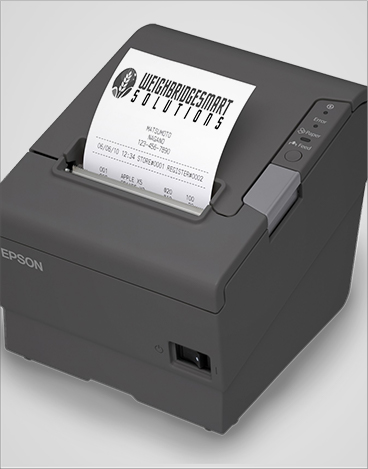 Lift the lid, drop in the roll, close the lid and print. Nothing could be easier. No more feeding rolls through slots or rollers, no more refilling with expensive ink!
The Bixolon SRP-330 Thermal Receipt Printer is compact, flexible unit, ideal for a variety of tasks. Perfect for receipts, measurement recording, ticketing and kiosk applications.
The printer comes with a paper partition that enables 50mm or 80mm printing, doesn't require ink refills and comes with a 2 year warranty.
The SRP330 is fully featured with improved printing speed up to 200mm/Sec and Smart Bixolon software package. Easy-to-use Windows driver and manufacturing system integration.
FEATURES
Easy drop in and print paper loading
User-friendly program
Compatible with logo/firmware for branded printouts
Print alarm buzzer, excellent for loud manufacturing areas
Virtual Memory Switch Manager makes changing the default language a snap
Optional auto-cutter and take-up with functionality customise printouts of client and customer receipt versions
Trustworthy reliability, comes with a 2 year warranty
Space efficient /optional vertical and wall mount kits available.
Virtual Memory Switch Manager(VMSM) helps you to the printer setting and default language change easily
High operational reliability
The market proven quality by world installation provides you option of an auto-cutter and take-up, and the ability to print one original plus two copies
Trustworthy reliability (1.8 million lines)
Space efficient /optional vertical and wall mount kits available.